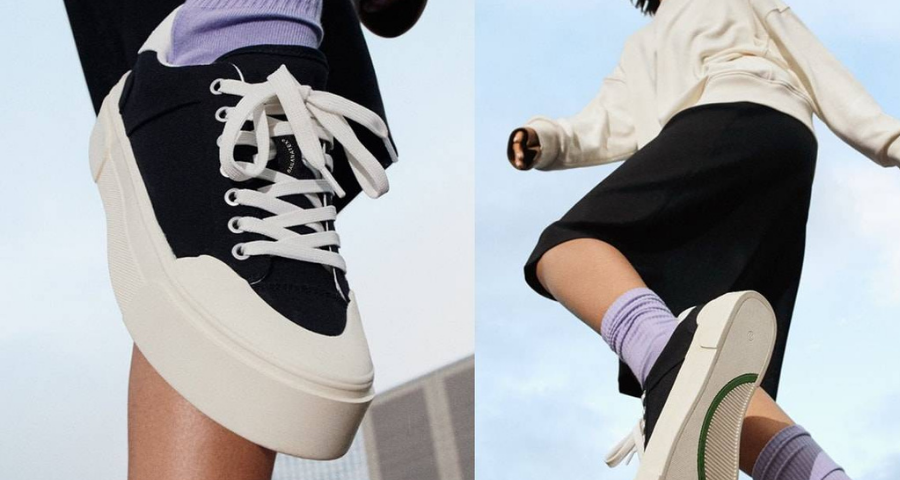 8 April 2021
H&M is taking big leaps in sustainable fashion, and has been exploring innovative sustainable materials, a recent launch being Desserto, a vegan cactus leather.
In collaboration with British footwear brand Good News, the fashion giant will be releasing sustainable sneakers made with Bananatex – a waterproof and durable fabric developed from banana plants.
Bananatex was developed by a Swiss bag brand QWSTION, a Taiwanese yarn specialist along with QWSTION's weaving partner from Taipei, Taiwan. Since banana plants are self-sufficient, their cultivation for Bananatex has also restored forests previously eroded due to palm cultivation.
"Working with Good News gave us such good energy and positivity. Their creativity and drive for change inspired our team. We joined forces to become better together. The collection is a bright and colorful contrast to a grey and uncertain world. I love the colors and the innovative materials," states David Söderlund, designer at H&M.
The collection will consist of seven pairs of seventies-inspired sneakers and a pair of sliders. These shoes will also feature Vegea, a vegan grape leather as well as recycled rubber soles.
Ben Tattersall, co-founder of Good News comments: "We noticed the amounts of waste that the footwear industry produced. Our name was born out of what we wanted to do: create change and bring the world a little bit of good news."
"It was important for us to design a cool and fun collection that is as sustainable as possible. We've looked at every component of the shoes and raised the bar together to create positive change," adds Nia Jones, co-founder of Good News.
Already launched in selected stores worldwide, the collection also includes vegan leather made from wine waste and Bananatex, a material debuted by H&M in 2020.
Image Courtesy: H&M