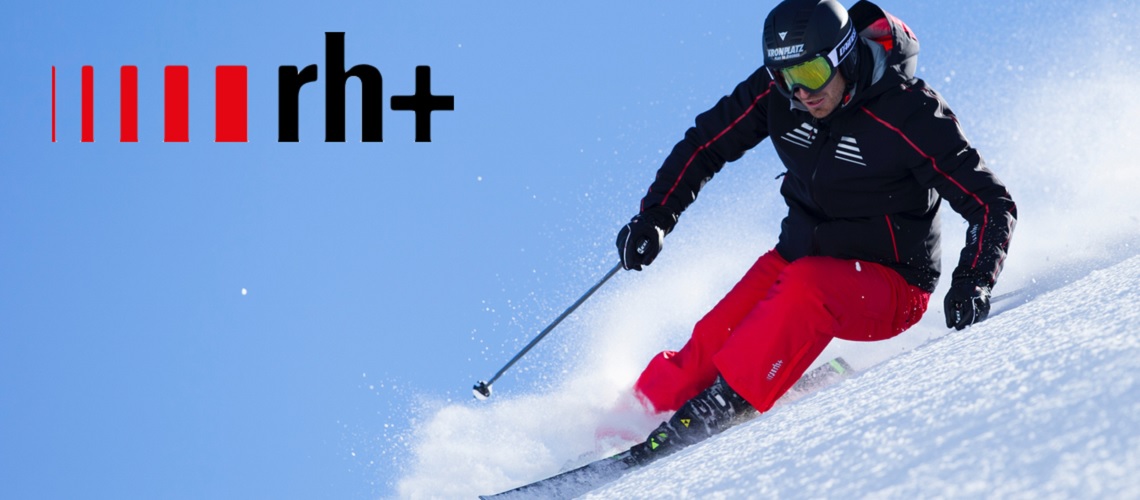 Now available in the best European shops, rh+'s new snow apparel collection boasts the Snow Fashion Lab project in collaboration with ISA. Innovative Biomorphic fabric is the technological base to this new line, an undisputed standard of ski performance.
The great know-how made of Innovation and Technology, that's part of rh+ DNA and the result of their Powerlogic Lab research and development, evolves in a perfect synergy with the rich Italian tradition of Style and Design.
Born from the collaboration between rh+ and ISA, a trend leading company in the world of fashion with a rich design history and expertise in hand crafted prints, the new Snow FW18 collection and the Snow Fashion Lab project are the creative and experimental laboratory where the cross pollination between skiing and fashion is in perfect harmony, bringing performance and style together in a modern way. 
Technical know-how, attention to details and styling have brought to life a collection that sees strong influences from the world of fashion, creating Snow products in perfect harmony with the most inspiring 2018 Fall-Winter sports and athleisure trends. rh+ new FW2018 collection is a line where each jacket is a tribute to experiences lived at prestigious and iconic ski resorts far from our local Alps, from Japan to South America.
The technological base to the new collection is the Biomorphic fabric. Created back in the early 2000, it revolutionized the world of sportswear by setting a whole new standard in terms of comfort, ergonomics and protection. That standard still holds today.
The Biomorphic fabric is made thanks to an exclusive lamination system between the multi-way stretch outer layer (also used in rh+ Cycling collection) and the high-performance, breathable, inner stretch membrane. "Bio", as it is known, is incredibly waterproof, a reference points in snow soft goods.
The lamination process, developed over years in the Powerlogic Lab, combined with warmth produced by the body during exercise, has a thermoforming effect – and this means that the garments fit always perfectly, following in the best way the skier movements. The WD Platinum Biomorphic 4WS is also presented in the Dual Cell version, with aerodynamic calendering, and in the lasered one, where the colored membrane becomes a decorative element without losing in technicity.
Biomorphic technology guarantees:
Waterproofness: 20,000 mm H2O
Breathability: 15,000 g/m2
Water repellency: 20 machine washes
The Aspen jacket is a taped garment with
thermoformed inserts on the back,
side ventilation system and front collar insert
with metal mesh and
3D mesh inside to allow perspiration.
Athletes constantly seek to perfect their performance. Striving for perfection is in the genetic code of rh+.
rh+ has been producing high-performance sportswear and accessories for over 15 years.  The rh+ code is about sportsmanship, a value that is reflected in the technical high-performing materials the company has developed over the years both in its specialised laboratory and with feedback from real athletes. The company's products all have the same trademark design, which combines the very best in style and performance. More than any other company, rh+ has always believed in bringing elegance to its sportswear collections and innovative materials to its lifestyle wear.
rh+ has made a name for itself in the sportswear and cycling accessories sector by constantly striving for innovation and focusing on high-performance materials – developed with the help of pro-teams. This ensures the very best performance in all conditions. The result is the unmistakeable design and style of rh+ cycling collections.
rh+ is a Zero Industry s.r.l. brand, which develops and sells products divided into four business units: Cycling, Snow, Eyewear and Urban. rh+ has an e-commerce site and a well-established international distribution network that covers 83 countries, from Europe, Asia, Africa, North and South America, to the UAE and Australia.