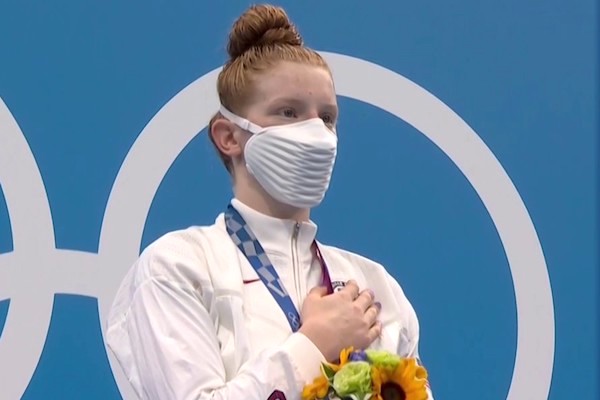 Image via NBC Olympics
If you've been keeping a close eye on the ongoing Olympics, you'd have already seen Team USA athletes grace the podium many times.
Many viewers have taken to social media to share their thoughts on the team's distinct face masks – which some say make them look like villains out of a superhero movie.
Featuring a pleated front and thick, protruding profile, the masks are hard to miss. They're also pretty different from the surgical masks other countries' athletes are donning. With "USA" printed in red on one side, it seems this version of the face covering was created specially for the Summer Games.
Want to get your hands on one of the masks? Well, they're made by Nike, and are called the Nike Venturer. While Team USA is sporting white masks, the Nike site is only advertising them in black.
They're also a little on the pricey end, retailing at US$60 a pop, but you can't snag one just yet. A Nike spokesperson told CNET that "the mask will soon be available for consumers," but no release date has been set.
The mask's description explains that the mask is made for working out: "Strap on Nike's first performance mask of its kind made for optimal breathability. Designed for sport, built in nose cushion and chin insert helps it stay in place when you're going hard. The unique origami-inspired pleated design allows for optimal air flow and air volume within the lightweight, mesh mask."
Take a look at some of the witty remarks Twitter users came up with below.
Is Team USA swimming team's mask inspired by Stars Wars?#Olympics #Tokyo2020 #Swimming pic.twitter.com/v1zewpKeKn

— Eisya Sofia Azman 💉💉 (@eisya_azman) July 25, 2021
That Team USA face mask though 😂 pic.twitter.com/avSoOAPlmA

— _toinfinityandbeyond (@SHeart1207) July 25, 2021
Team USA masks reminds me of Subzero mask pic.twitter.com/0N99w9i9ue

— Kate🕷️🕸️ (@Kathy_Kruspe) July 27, 2021
Is it Bane? No. It's @TeamUSA #Swimming #Tokyo2020 | #UnitedByEmotion | #StrongerTogether | #Olympics

— #Tokyo2020 (@Tokyo2020) July 25, 2021
[via CNET, cover image via NBC Olympics]